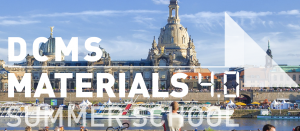 Dear colleagues,
We still have few open slots for Master students, PhD students and (early stage) Postdocs to participate in the
International Summer School "MATERIALS 4.0: Materials Genome Engineering" which be organized by TU Dresden this year (August 17 – 21, 2020) as an online event.
For further information please refer to the Summer School homepage: https://summerschooldresden.science/
The registration is open until June 30, 2020 and participation is free of charge.
Please forward this message to your local network and colleagues that might be interested in joining the Summer School MATERIALS 4.0 and share our Facebook post
https://www.facebook.com/events/309780199712553/
in your network.
Thank you very much for your support!
Best regards
Prof. Dr. Gianaurelio Cuniberti, Prof. Dr. Sibylle Gemming
(Organizers and Scientific Board)