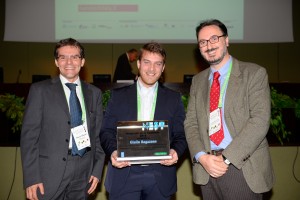 Consegnato a NanotechItaly 2015 il Premio NEST 2014. Il vincitore è stato Giulio Ragazzon dell'Università di Bologna per il lavoro pubblicato sulla rivista Nature Nanotechnology, pubblicato online il 24 Novembre 2014, DOI: 10.1038/NNANO.2014.260 dal titolo "Light-powered autonomous and directional molecular motion of a dissipative self-assembling system", per l'assoluta rilevanza della ricerca effettuata nell'ambito della nanoscienza sperimentale.
La cerimonia di consegna, a cui hanno partecipato anche un rappresentante Rivoira e il responsabile operativo del NEST, è stata seguita da una breve presentazione del lavoro scientifico svolto dal dr. Ragazzon.
E' stata quindi presentata l'edizione 2015 del Premio NEST con scadenza il 20 Dicembre 2015. In questo linki dettagli sul bando.